2018 MegaBox Football Fever Lucky Draw
2018-06-13
From now on till 15 July, you can redeem 1 lucky draw ticket upon spending HK$200* or above at any shops in MegaBox. A maximum of 3 Lucky Draw Tickets can be redeemed per same-day valid receipt. Correctly answering the questions on the ticket, filling in your personal information on the ticket, and dropping the ticket into the designated collection box will get you a chance to win a grand prize of two economy class flight tickets from Hong Kong to Johannesburg and return (Worth HK$27,340) (Quota 1 Person) and other prizes that worth a total of HK$100,000.
*One set of single same-day machine-printed receipts together with Union Pay / EPS / credit card sale slips must be presented (Payments by Octopus and cash are not accepted).
•The results of the 2018 MegaBox Football Fever Lucky Draw will be announced in Sing Tao Daily, The Standard and www.megabox.com.hk on 24 July, 2018.
Lucky Draw Ticket Redemption details:
Date: 14 Jun - 15 Jul 2018
Time: 12:00nn - 10:30pm
Venue: Redemption / Mega Club Counter @ G (opposite to Teawood)
Grand Prize TWO Economy Class tickets From Hong Kong to Johannesburg & Return HK$27,340
2nd Prize HOME•21 HK$15,000 Cash Voucher HK$15,000
3rd & 4th Prize Goji Studios 12 months membership (One Club, MegaBox only) HK$9,256
5th Prize GIORMANI HK$8,000 Cash Voucher HK$8,000
6th Prize Mega Ice 3-month Skating Pass HK$6,300
7th Prize GIORMANI HK$6,000 Cash Voucher HK$6,000
8th Prize HOME•21 HK$5,000 Cash Voucher HK$5,000
9th & 10th Prize Goji Studios 3 months membership HK$3,664
11th HOME•21 HK$3,500 Cash Voucher HK$3,500
12th Fissler Pressure Cooker HK$2,980
13th & 14th Mega Ice 1-month Skating Pass HK$2,100
15th Panasonic nanoe™ Hair Dryer HK$998

Terms & Conditions
• During this promotion, if data in lucky draw ticket is missing, inaccurate or unidentifiable, MegaBox reserves the right to judge the eligibility of the winners.
•To collect the prizes, winners must provide their corresponding winning lucky draw ticket and original ID card within the specified dates, time, and venue or will otherwise not be accepted.
•Winners need to call 2989 3033 for prize-collecting registration prior to 10 August (Monday to Friday, 10:00am – 5:30pm).
•Winners are responsible for all extra costs for collecting the prizes and using the prizes, if any.
•If the prize is out of stock, MegaBox reserves the right to replace the prize without prior notice.
•Prizes cannot be returned or cancelled under any circumstances. The prizes are not returnable or exchangeable for cash or other gifts.
•Style and color of the prize cannot be chosen.
•Staff of MegaBox Development Co. Ltd. and respective merchants cannot participate in this promotion.
•Winners of the lucky draw must be aged 18 or above and is registered as member of Mega Club.
•Winners must fill in the correct personal information on the lucky draw ticket and put the ticket into the correct collection box within the promotion period. Participants will have a chance to win prizes if he/she correctly answered the questions on the lucky draw ticket.
•All related responsibilities and liabilities of provision of prizes and offers that are relevant to this promotion are to be entirely borne by the respective provider.
•Photos and prices are for reference only.
•Each set of receipts can only be used for one of the promotional offers provided by MegaBox (except Mega Club points redemption).
•Only consider net purchase amount (i.e. after calculating discounts or using of coupons).
•Receipts of banking service, recharge service, mobile SIM card recharge, bill, tuition (except Mega Ice), membership, prepaid consumption (including purchase of gift card, gift voucher, cash voucher, discount card and other types of prepaid consumption) , concert ticket, sales venue or booths receipts are not accepted.
•All purchases and time must be clearly presented on merchant's machine-printed receipt.
•Staff of MegaBox will stamp on all redeemed sales receipts for identification purpose.
•Customers must provide details of their merchant's machine-printed receipts for identification purposes whereas MegaBox Development Co. Ltd. reserves the right to take photos of the receipts for verification.
•Any amended, damaged, photocopied or transaction-not-completed receipts will not be accepted.
•The usage of the prizes is subjected to terms and conditions. Please contact related tenants for details.
•Additional terms and conditions for the grand prize
•Transferring the prize to others is not permitted. One of the flight tickets must be used by the winner of the lucky draw.
•The flight itineraries must be the same for the winner and his/her accompany.
•Once the flight ticket is confirmed, no changes can be made.
•The winner must redeem the flight ticket from the airline company within six months after the lucky draw.
•The winner must finish the entire trip within three months after the flight tickets are issued.
•The flight tickets cannot be used during: Christmas, New Year, and other peak seasons. Please contact the airline company for details.
•The flight tickets cannot be used to gain air mileages.
•The winner must pay all related extra fees and taxes in cash when redeeming the tickets.
•The winner can contact the airline company for other terms and conditions.
•In case of any disputes, MegaBox Development Co. Ltd. and South African Airways reserve the right of final decision.
•Terms and conditions are subject to change without prior notice.
•Trade Promotion Competition License No.: 50549.
•Should there be any discrepancy or inconsistency between the English and Chinese versions of these Terms and Conditions, the Chinese version shall prevail.
All personal data collected by the Lucky Draw shall be kept confidential. All lucky draw tickets will be destroyed after the draw.
Trade Promotion Competition License No.: 50549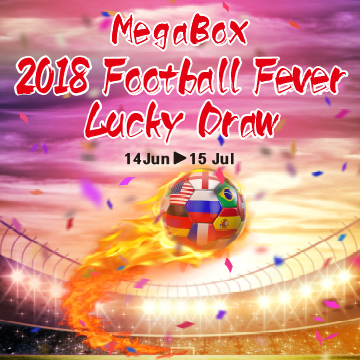 Stay in Touch with MegaBox
Subscribe to our newsletter
Find us on social media